6th Network Wide Event
date: April 04, 2023
category: Trainings
Summary of the training event (27th of March – 30th of March 2022) in Sweden
The sixth Network Wide Event (NWE) of GreenTRIBOS project was organised in cooperation with Industrial partner on this project – Sandvik Coromant and took place in Stockholm (Sweden). The 6th NWE consisted of two parts – industrial days and beneficiary part.
Welcome given to ESRs and their mentors by Sandvik Coromant for the first part of the 6th NWE.

During discussions and presentations at Sandvik Coromant.
Industrial days were held in company Sandvik Coromant. During the Industrial Days, early-stage researchers (ESRs) presented their research to company staff, which was followed by a joint discussion. On the other hand, the Sandvik Coromant company presented the development of cutting tools and services to the metal cutting industry and how they implement the recycling of materials into production practice. In addition, they offered the researchers various transferable skills in lectures and workshops, including principles of circular economy. An important part of the Industrial Days was also a visit to the company's laboratories (for materials and surface analyses, sintering process, bench-testing facilities, etc.) and joint workshops, where researchers and company staff explored ways in which the project's research results can contribute to the successful implementation of these solutions in industrial practice.

Joint picture of ESRs, mentors and Sandvik employees.

Joint consortium dinner.
In the second part of the NWE, the researchers presented the scientific progress of their projects and current results, as well as the plan for publishing and promoting their results by the end of the project and tentative month of their PhD defence. Each presentation was followed by a discussion involving both mentors and other researchers who provided constructive comments on the content presented. All ESRs are successfully progressing their projects and will attended various conferences around the world over the next six months to present their results with a wider scientific audience. In addition, the ESR are also actively involved into preparation of 1st Open Call Green Tribology conference that will take place on 6th of September 2023 in Leeds, UK: https://greentribos.eu/green-tribology-conference/.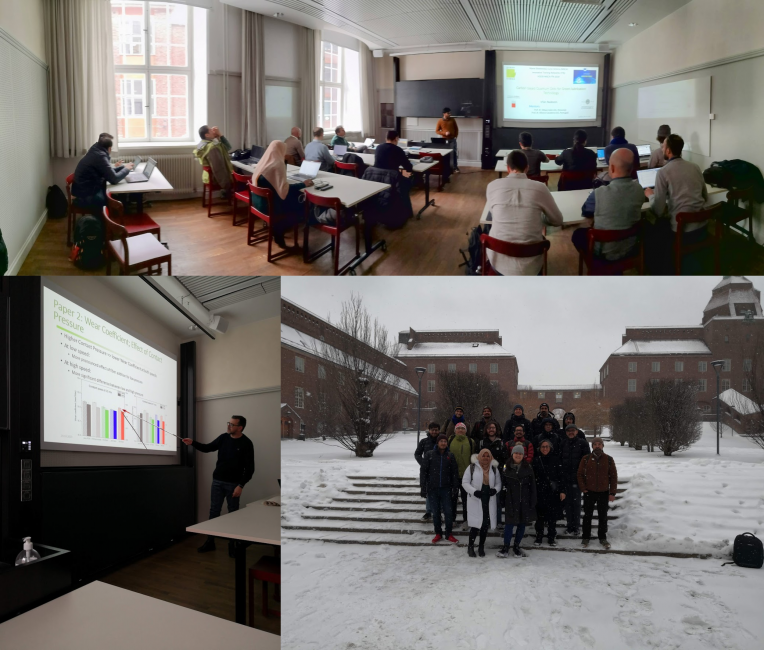 ESRs presentations and boards & committees meetings during second part of the 6th NWE.